Magazine "Azerbaijan Airlines" ("Silk Way") is the official publication of AZAL Airlines. It is published six times a year and is distributed to the passengers of Azerbaijan Airlines.
As a high-quality printed product the publication includes relevant and useful information related to all areas of contemporary life. Diverse contents of the magazine let any reader – both male and female, of any age and social group – find interesting articles for themselves.
Magazine presents entertaining and informative themes. Each issue has articles dealing with cities and countries where AZAL flies and articles on the history and present life of Azerbaijan, on its regions and potential in the area of tourism. The third important theme is aviation – it is represented by the articles about AZAL, the development of aviation in Azerbaijan and other countries. Other broadly presented themes are the history of automobile, great travelers and geographic discoveries, the major construction projects, advices of doctors and stylists, arts and design. The magazine has a special section for children. Besides, every issue has information to help passengers in entering and exiting the country and to give them directions in the international airports of Azerbaijan.
The magazine is quite popular in Azerbaijan. It is considered one of the leading publications representing the country abroad.
The magazine is given to every passenger on 600 international flights of Azerbaijan Airlines!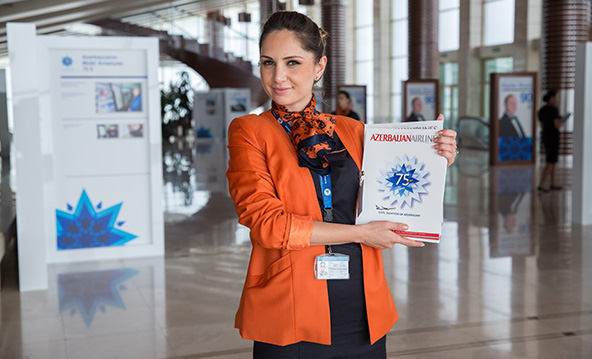 The technical characteristic of the magazine
The magazine "Azerbaijan Airlines" is a colour glossy publication of А4 format, size 210 х 270 mm and volume 144 pages. This format allows each passenger of Azerbaijan Airlines to take their copy as it is not so heavy and can easily fit into a bag or a briefcase. The 55,000 - 60 000 copies circulation of the magazine will allow all interested people to have their own copy.